What CMS platform should I build my e-commerce website on?​
With so many different types of CMS (Content management systems) out there it's hard to choose which one is right for you. In this blog, we'll be talking about WordPress, Magento, Shopify, Wix and a few others. Before you can choose which platform is right for you, you must first understand what it is your website is for. Ask yourself a few questions:
Is your website going to be selling products?
Will your website be selling products because some platforms are built around this system. One such system would be WordPress with a purpose-built plugin called woocommerce. Another point to raise is what other features are you wanting to have in your shop, for example, do you want a stock management system? Some platforms may not support that and do not have the ability to add it.
How many products do you plan on selling?
If you are selling a few select products and have no intentions of expanding your product base by a massive amount, something like Shopify or WordPress is ideal for you. If you are planning on having a large selection of products (something like Amazon) then Magento is a much more specialised CMS that is ideal for massive adaptive product lists.
Do you want to have other features on your website?
Research is important! Ask yourself what other features you'd like on your website and find out if the platform you're looking at can do this. The good thing about WordPress and Magento is they have so many plugins allowing you to add additional features to your website. Platforms like Wix, Squarespace & Shopify is that this can sometimes be very limited.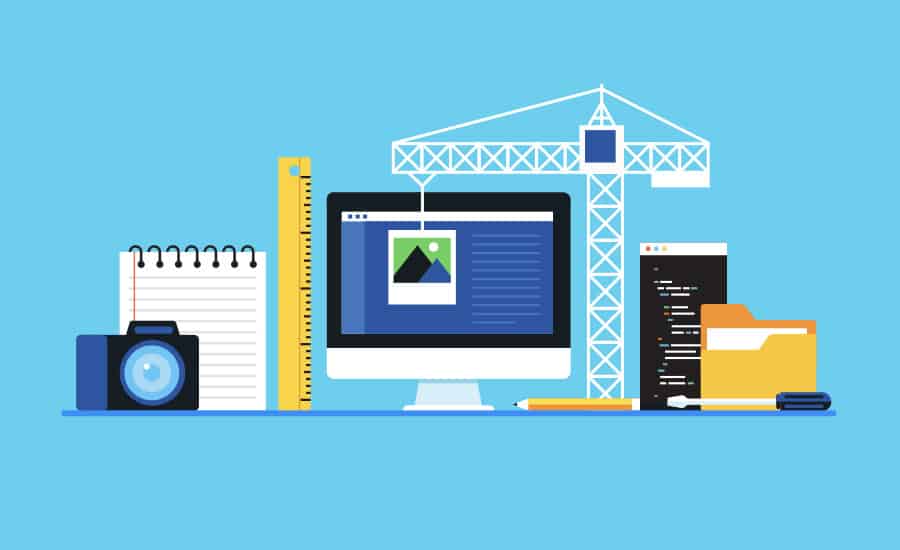 Your website CMS can have dramatic effects on how your website performs and what it's capable of.
What are the positives and negatives of our 4 CMS platforms?
Let's talk through the 4 CMS systems we've chosen and given some positives and negatives about all of them. We'll tell you the facts, what our opinions are and some of the reasons why you might choose them.
WordPress is one of the most popular and widespread platforms and there's a reason why. WordPress features a simple dashboard with the ability to edit, add and remove pages, menus, themes and much more. It gives you the ability to do some incredible things in far less time than ever before. Not even to mention the amount and variety of 3rd party plugins that can do almost anything you need. It's easy to install and easy to manage and maintain. You have the ability to easily add blog posts with very limited experience of using it before.
It's ideal for brochure websites and even e-commerce websites. If you're using it for selling products, woocommerce is something you should look into as it's one of the best plugins out there. You can manage large product lists and add lots of descriptions, images and attributes to all your items easily. It even has the ability to import large product lists which automatically sorts itself into the correct format.
If you have intentions of trying to optimise your website for Google then have no worries, WordPress will have no issue with that. You have the ability to edit alt tags, page titles, meta descriptions, optimise the site structure, minimise code (Java, CSS), optimise images and way more. Let's talk about some plugins! Yoast is a WordPress plugin that helps you understand how to rank your pages for the chosen keyword. Smush allows you to optimise your images with very little loss in quality but greatly increasing the health and speed of your site.
Magento is a much more specialised program for more advanced users. You should only be considering Magento if your site is selling hundreds of products with lots of attributes and filters. One major issue with Magento though is how specialised it is, you can expect to spend a considerable amount more on the development and maintenance of your website if you choose this CMS platform. There are certainly reasons why you should use this platform, but keep in mind it is more suited to larger more multi-product based e-commerce websites such as Amazon or eBay.
Optimisation of a Magento site is most definitely possible and as good as WordPress, but you must be a professional Magento developer to truly understand how to best accomplish this.
Shopify is completely different to WordPress and Magento. With the ability to drop and drag sections of your page around it makes it easy for everyday people with no website development experience or knowledge to create a website. You can create a website with no code at all which is pretty impressive. Of course, there are many downsides to this, some of them are pretty big issues.
By making it drop and drag they've essentially limited the amount of customisation you can do to a website, severely limiting what you can do on your site. The drop and drag feature also uses a lot of code in the background to make it work for the user on the front end, this can dramatically affect your sites speed and ranking capability. If you have intentions of competing on google for keywords then Shopify is definitely not the right option.
Wix is very similar to Shopify in many ways. Having the ability to drop and drag is great but it will always have its downside. Limited customisation, limited plugins, slower site speeds and harder to produce a fully responsive site. If you have a low budget or you're a small business, it may be worth considering either Shopify or Wix just to have the ability to do it yourself and save those pennies.
So overall, what would we recommend?
It really depends on what you need and can the platform support it, but think ahead and remember that what you want now might always be what you need in the future. WordPress is an incredibly strong, simple and adaptive platform to work on. We would almost always suggest WordPress to our customers unless your site is better suited to another platform. Ultimately it's better for you to research all these platforms and determine which one fits your goals and budget the best. If you are looking to rank on Google then Shopify and Wix, or any drop and drag CMS for that matter, is better to avoid.
Learn About Our Web Development Process
We can provide you with a free consultation! Call us now or fill in this form!
Contact us now with any questions or queries regarding how we can help grow your business…
---